Nigeria's President, Muhammadu Buhari, has arrived in Munich, Germany to begin a two-day official visit in the course of which he will participate in the G-7 Outreach program for invited heads of government and global institutions.
President Buhari arrived at about 15.25 Hours on Sunday and was received by the Vice Minister-President of Bavaria, Mrs Inge Aigner.
A statement by the spokesman for the President, Garba Shehu, said President Buhari would hold bilateral talks with the Chancellor Angela Merkel of Germany and Prime Minister Stephen Harper of Canada on the sidelines of the G-7 Outreach Programme, before leaving Munich for Nigeria on Monday.
He is also expected to meet President Barack Obama, President Francois Hollande of France, Prime Minister David Cameron of Britain, and other G-7 leaders in the course of the Outreach Session and a working lunch at the Elmau Castle.
The Head of the Bavarian regional government will host a dinner in honour of President Buhari and other leaders invited to the G-7 Outreach Programme on Sunday night.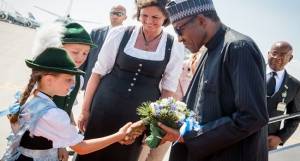 President Buhari was accompanied by Governor Kashim Shettima of Borno State, former Governor Babatunde Fashola, General A. Dambazau (rtd.) and the Permanent Secretary of the Ministry of Foreign Affairs, Ambassador Paul Lolo.
Other invited Heads of State and international institutions, who will join President Buhari at the working session with G-7 leaders on Monday at Elmau, include President Jacob Zuma of South Africa, President Ellen Johnson Sirleaf of Liberia, President Macky Sall of Senegal, President Beji Caid Essebsi of Tunisia and Prime Minister Hailemariam Desalegn of Ethiopia.
Also scheduled to participate in Monday's Outreach Session with G-7 leaders are the Prime Minister Haider Al-Abadi of Iraq, the Secretary-General of the United Nations, Mr Ban Ki Moon, the Secretary-General of the OECD, Mr Angel Gurria and the Managing Director of the IMF, Mrs Christine Largarde.
The President of the World Bank Group, Dr. Jim Yong Kim, the Director-General of the International Labour Organistion, Mr Guy Rider, the Chairperson of the African Union Commission , Mrs Nkosazana Dlamini Zuma and the Director-General of the World Trade Organisation will also take part in the Outreach Session.
tweet
Follow @@metrolens1